Should you happen to be living in a warm or cold climate, it makes sense to have air conditioning installed in your home. It is more so essential home improvement if you live in the part of the world with extreme weather, very cool in winter and steaming hot in summers. You can look for answers and solutions however when you think about it it's only cost and benefit. The more you pay for your air conditioner the more benefit or to put it another way, if you want a better unit – no problem, you just have to pay more for one.

We like a comprehensive comfort solution in our home which is why we opted for ducted air conditioning system. This post will not be about the compartment and pros and cons of having one brand like Actron Air versus Fujitsu nor will it be the argument about if ducted a/c is better or not compared to split system air conditioner. In the latter case it would be like comparing apples to oranges.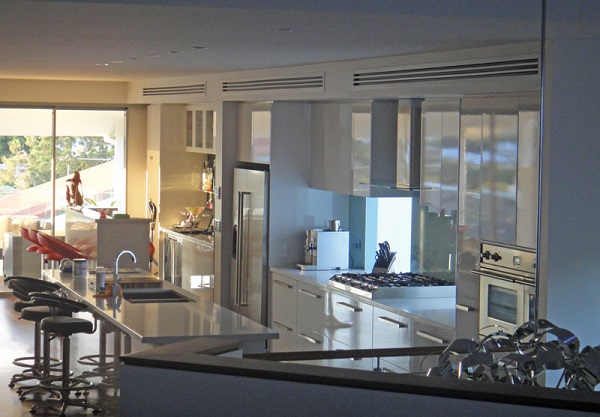 If you are after a more comprehensive review of air conditioners, we're certain that has been done many times in the past and we would recommend following page by Australia's Choice.com.au site here. After some research and we ended up buying our ducted air conditioning fully installed from Frost air.
This will focus more on why we like ducted air conditioning systems and how it can fit your home and not brake the budget. Yes, they are the most expensive a/c systems you can buy however you get the whole home covered this way. Not only that, depending on whether you purchased a 2 zone or 3 or 4 zone unit, in any case you will be able to control different zone areas separately.
Temperature control is done via a wall controller or a remote control. New units like ours – it happens to be Samsung ducted air, has a mobile control enabled where you can schedule, change, turn on or off your air conditioner remotely by using a mobile phone application. This is useful during hot summer months where you can turn the cooling on half hour before you get home. That way you will be welcomed with a cool and dehumidified air.
Reverse cycle – heating and cooling available
Equally in winter, you are able to enjoy a warm and fuzzy feeling during those winter months and feel comfortable in your home thanks to your ducted air unit. Reverse cycle allows you to use your unit as a heater in winter and cooler in summer. Additional bonus is that all modern units use so called inverter technologies and as far as I know, the first air conditioning manufacturer to introduce this advance feature was Daikin air conditioners.
Inverter technology
There is a 2 prong benefit of inverter air conditioning technology. On affects your hip pocket and another one your comfort level. Instead of old way of of turning the compressor unit on and off to regulate temperature, what inverter technology does is that it regulates the speed of your air conditioner and it never switches it off fully but only slow it down when the desired temperature is achieved. This way you don't get the wild temperature swings.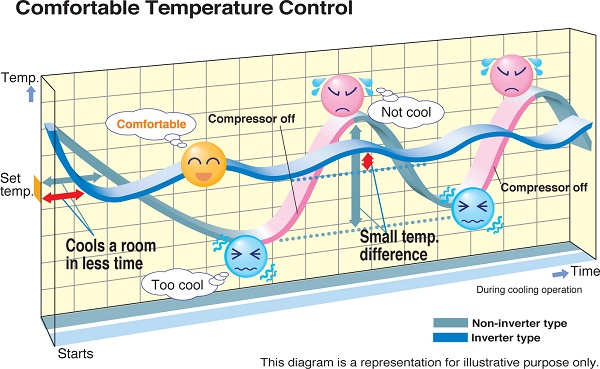 The second benefit is that this way of operation saves energy saving you money. The motor doesn't have to work at it's 100% power as it used to be the case where the operation was binary – either on or off.
The name ducted comes from the way these air conditioners are constructed, consisting of the network of ducts and vents that reach every part of your house, bedrooms, living areas and hallways.